Insights from Common, worth a three-minute read.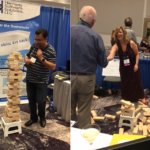 It's been about two weeks since COMMON, and we're already looking forward to next year. Many of you stopped by our booth to play Jenga with a trivia twist, which evoked some eye-opening conversations. Some of you won prizes (if you cashed in a $10,000 lottery ticket, let us know)! We also appreciated your complimentary feedback regarding our new "Blue skies are back!" campaign. (Who's not a fan of "surrendering the overwhelm" to see the light of day again?)
We had fun meeting you and sharing professional insights to help streamline and support your own IT departments. For those who missed this, we've noted three key takeaway tips that wowed some of your peers:
Q. Have you ever undertaken a change in a reckless manner that impacted the functioning of the whole business? For example, you changed a data file, overlooked some of the programs that used them, and inadvertently rolled out the change which caused the other programs to fail?
A. "I just did that recently!" one IT pro humbly vented.
He now knows, for the next time, that by utilizing a change-management graphical impact analysis report like the one in TD/OMS, he could have seen the entire scope of the changes in advance and saved hours or days and lowered the risk of deployment and user frustration.
How does that work? You can utilize the graphical impact analysis report in TD/OMS prior to the change to ensure all objects are included in the change. Also prior to deploying TD/OMS, verifies that all dependent objects have been updated, and it alerts developers to any discrepancies that need their attention. Such effective automation reduces the risk of deployment failure prior to impact to an organization's production environment.
Bonus tip: Bosses love risk aversion.
Q. If you could change one thing about your job to make it better, what would it be?
A. The top three replies: Make everyday tasks easier; have shorter or fewer meetings; automate redundant tasks.
The keys to all of these boil down to optimal organization, prioritization and visibility. With the right Web portal, such as Gravity, everyone involved in a project can access, inquire about and collaborate on any particular task along the way, any time, from anywhere. Communication among all should be easy and effective.
For IT teams not already operating at this optimal potential, we bring 25 years' experience — including a diverse breadth of IBM i projects — to the table to assess their goals and pitfalls and set them up quickly and painlessly with some of the industry's best software, hosting and other productivity solutions. It's perfectly tailored, with reliable training included. Once they've "surrendered the overwhelm," they can hardly believe how much time they have to simply breathe! Believe in the power of a gulp of fresh air.
Q. How do you keep up with industry trends and new offerings?
A. Everyone admitted they could read magazines or attend user groups – if only they had the time. We touted the ultimate fix: the Mid-Atlantic Group of IBM i Collaborators, or MAGiC, open to any IBM i professional from anywhere on the planet. MAGiC facilitates in-person and online peer networking, continuing education, trend watch and analysis and more, via high-quality conferences, industry-leading speakers, live and downloadable online labs and other cool perks. Can it get any better? Members also receive access to an IBM i for ongoing training and practice.
One place; get it all; stay in the know. They got it.
And then we invited them all to our next annual MAGiC conference, to be held in Virginia Beach Sept. 27 – 29, featuring keynote speaker Steve Will, chief architect of the IBM i. You should join us!  CONFERENCE INFORMATION
Meanwhile, get a taste of MAGiC now: Sign up for our beginner-friendly, hands-on "Open Source on the IBM i" lab, live online May 25, with presenters Chris Hird and Jesse Gorzinski. It's free to registered MAGIC members, and you can wear your pajamas. SIGN UP NOW
Not a MAGIC member yet? Become one here: REGISTER NOW
Blue skies are back, everyone. Go fly your smart flag!
Here's to liberation,
Laura Hamway